The Iridium GO! exec device screen will indicate if there is voicemail available on either Line 1 or Line 2 with the voicemail icon in the top status bar:

Default VM PIN: 1234
Accessing Voicemail on the Device
Voicemail messages can be accessed for either line from the voicemail screen.
Navigate to the home screen > select the phone icon > select the voicemail icon.
Voicemail for the desired line can be accessed by pressing the appropriate button.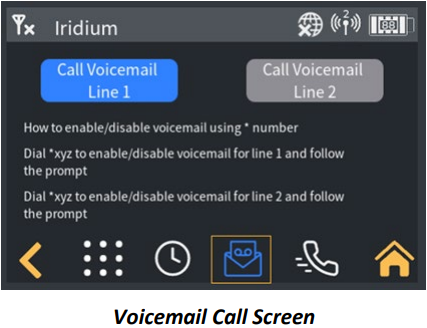 Accessing Voicemail on the App
The Iridium GO! exec App shows a voicemail indicator in the status bar when there is voicemail available. To access voicemail in the App:
1. Select voicemail from the Home/Phone screen top navigation keypad tab

.
2. The voicemail screen supports calling the voicemail system for either voice Line 1 or Line 2.
If there is voicemail for a line, an icon indicating voicemail will be overlayed on the relevant line
button: 

Once the call to the voicemail system is established, the active call screen is displayed. The App user should press the Dialpad button

allow navigation of the voicemail system using the keypad.
NOTE: The first step to access the voicemail system is to provide a PIN. The default pin is 1234
but can be changed from menu settings in the voice mailbox.