Below is a list of required and recommended apps to use in conjunction with the Iridium GO! exec. These are available by searching them on the Android Google Play or the Apple iOS App Store.
Iridium will keep an updated list at this link: www.iridiumgoexec.com/apps
Required: Iridium GO! exec App: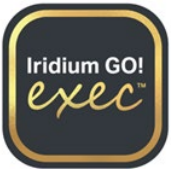 The Iridium GO! exec app is the only required app. This app allows the user to easily connect their mobile device to the Iridium GO! exec device to make calls, change settings, enable data access/timer/profiles, set and turn on SOS, and change any setting available on the device via their mobile device.
IMPORTANT NOTE: The app is required to make calls using a mobile device connected to the Iridium GO! exec. However the app is NOT required to make calls on the device itself, or to connect to the device and use data. A user without the app can manually connect to the exec by connecting to it's WIFI manually on their mobile device/laptop, then enabling a data connection and connection Profile via the exec device's touch-screen internet Connection Manager menu. Voice calls can also be made via the device's touch screen and built-in microphone and speakers.
Optimized Apps (for low data bandwidth)
All the below apps are optional. They are recommended for the best usage experience with low-data bandwidth connections such as that of the Iridium GO! exec.
Iridium Mail App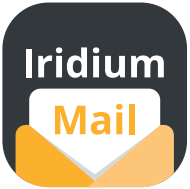 This app is optimized for low-data bandwidth email, sharing of photos and small files, and receiving weather forecasts. (NOTE: Not released as of May 2023. This is not the same as the 'Iridium Mail & Web' app, which is for the original Iridium GO! device only.)
Using Iridium Mail App:
- The Iridium Mail app is integrated with the exec API. It does NOT require a data profile to be selected. The app is be able to enable its own optimized data connection.
- Registration is free and required in order to use the app.
OCENS OneMail (paid subscription)

Compresses Gmail, Yahoo!, Hotmail, and other e-mail account messages for faster, more reliable transfers.
PredictWind Offshore (free/paid options)
Tools, weather routing, and departure planning. Weather models: PWG, PWE, ECMWF, GFS, SPIRE, and UKMO.
Popular Apps
IMPORTANT NOTE: These apps are not optimized for satellite data usage. It is highly advised to first write messages/emails, then connect the data profile of the exec, send/receive data as required, then manually Disconnect the data session to avoid excessive data usage and 'bill shock'.
These apps have been tested and confirmed to work with the Iridium GO! exec. Please note the ideal usage of each app:
WhatsApp - Ideal for person-to-person & group messages; voice calls; location sharing, limited images.
Gmail - Ideal for text-only e-mails
Microsoft Outlook - Ideal for text-only e-mails
Twitter - Ideal for text tweets, direct messages, and feed scrolling. Disable 'Media Previews' in the Twitter settings to ensure images and videos do not auto load!
Venmo - Ideal for sending / requesting funds and making credit card payments
FaceTime - Ideal for voice calls only
iMessage - Ideal for person-to-person and group messages
LINE - Ideal for person-to-person and group messages; voice calls; location sharing
Viber - Ideal for person-to-person and group messages; voice calls; location sharing
Signal - Ideal for person-to-person and group messages; voice calls; location sharing
WeChat - Ideal for person-to-person & group messages; voice calls; location sharing