Before connecting your Iridium GO! exec to the Iridium network, first:
1. Download and install the required mobile applications on smart devices using standard high-speed network:
• Iridium GO! exec Application
• Iridium Mail Application (NOTE: Not released yet as of May 2023. This is not the same as the 'Iridium Mail & Web' app which is for the original Iridium GO! device only)
• Third-Party Apps: For additional Iridium GO! exec optimized apps visit:
www.iridiumgoexec.com/apps

2. Ensure your smartphone is within approximately 30 m (100 ft) Wi-Fi range of the Iridium GO!
exec device and the Wi-Fi is enabled.
3. Now, turn on the Iridium GO! exec (lift the antenna up OR hold the power button for 2 seconds). Navigate to the settings (cog) icon on the device UI, and select "Show Wi-Fi Credentials" option to display the QR code, SSID and password.
The default WIFI password is: password

4. You can now connect to the device in either of the following ways:
a. Open your Iridium GO! exec mobile app on your smart device and follow on-screen instructions
to scan the QR code. Once successful the app will automatically connect to the device
Or
b. Navigate to your smart device's Wi-Fi settings and look for the Iridium GO! exec SSID as
displayed on the Iridium GO! exec device. Click on the name, enter password when prompted.
Once Wi-Fi connection is successful open your Iridium GO! exec app and it will automatically
log in.
NOTE: Ensure your Bluetooth option is enabled as the Iridium GO! exec uses BLE to send
notifications to your smart device.
NOTE: Your smart device might warn you that 'Internet may not be available' on this Wi-Fi
connection. This is expected, so please ensure you dismiss this warning and ensure your smart
device stays connected to the Wi-Fi access point.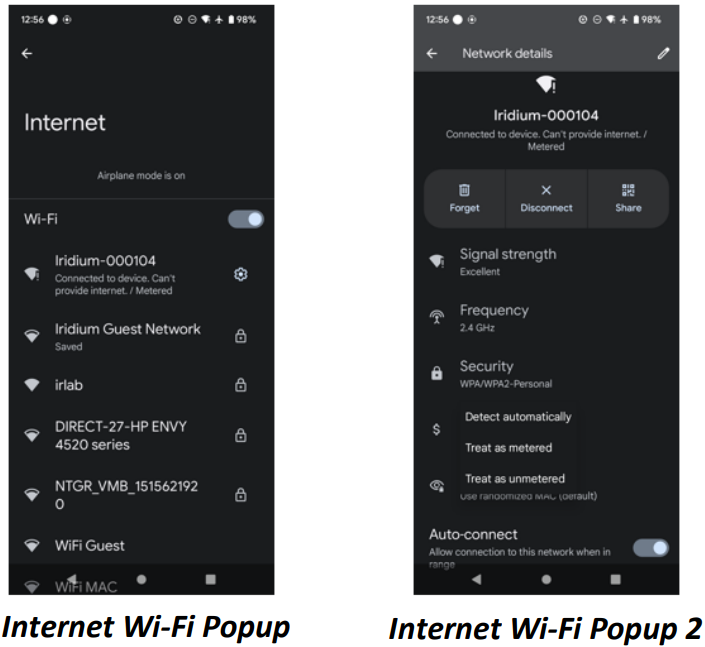 Important: Always confirm in your Smart Device Settings that you are connected to your Iridium GO! exec Wi-Fi network prior to use of the Iridium GO! exec application.
Iridium GO! exec - Setup Video: